Blue Star Power Systems Diesel Generators Product Line
STATIONARY: Emergency Standby Generators & Prime Power Generators for Sale
Size Range 30 – 2500 kW | 60 Hz at 1800 RPM
Powered by a wide variety of engines to suit our customers' most unique requirements, Blue Star Power Systems, Inc. offers diesel generator sets ranging from 30 – 2500 kW. From their standard product line to the customized product, the quality and attention to detail is unparalleled. At Central States Diesel Generators, we sell highly efficient blue star generators. All our equipment possess good fuel efficacy and the best thing is that their operation does not cause any harm to our environment. We take good care of each detail while selling the generators to clients. When you buy diesel generator we make sure you get the set which fit best as per your needs.
Blue Star's expertise and flexible customized solutions offer you the unique opportunity to receive a unit that is fit perfectly to you or your particular application. Whether your need is continuous power, the ability to cover peak loads, or simply peace of mind with backup emergency power, our goal with Blue Star is always to develop a long-term partnership well beyond the sale. Our commitment to fuel efficiency and current EPA emissions standards provide you with the most technologically advanced, environmentally friendly unit available. All units are UL 2200 Listed, CSA Certified, & Seismic Certified to IBC 2012.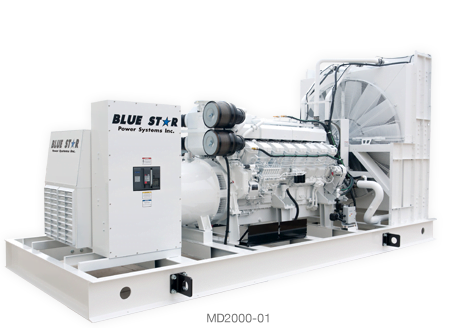 Diesel Engine Manufacturers
John Deere
Mitsubishi
MTU
Volvo Penta
MOBILE: Emergency Standby Generators & Prime Power Generators for Sale
Size range 30 – 600 kW | 60 Hz at 1800 RPM
Blue Star Power Systems, Inc. offers mobile generators from 30 – 600 kW for any application required. Every model is emissions compliant for non-road use. With reliable power and low operating costs, these units are ideal for rentals, peak shaving, and any application that requires versatile and convenient power. All units come equipped with a variety of powder coated enclosures and rugged steel constructed DOT certified trailers.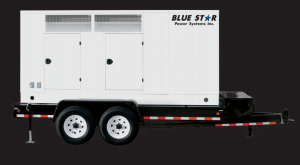 Diesel Engine Manufacturers
John Deere
MTU
Volvo Penta
TIER 4 Generators: Emergency Standby Generators & Prime Power Generators
Size range 100 – 600 kW | 60 Hz at 1800 RPM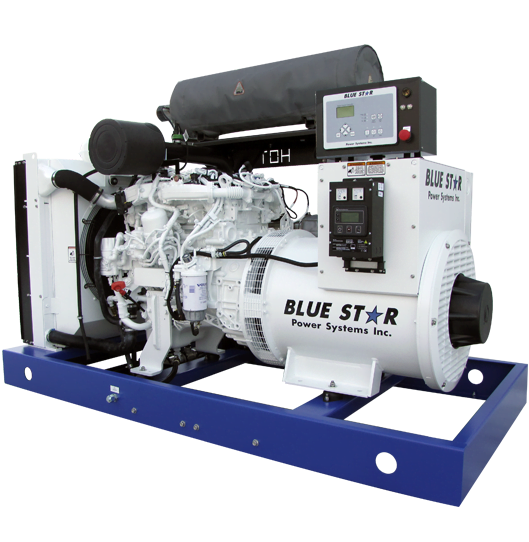 Blue Star Power Systems, Inc. offers EPA Tier 4 Final compliant generator sets ranging from 100 – 600 kW. From prime power to peak shaving applications, in both stationary and mobile versions, our FT4 units meet all Federal, State and local emissions regulations that require certified FT4 engines. Our decision to use the proven SCR technology has allowed us to eliminate DPF regeneration cycles, resulting in reduced down-time and maintenance of the exhaust after treatment system. This combined with our commitment to fuel efficiency improves performance and minimizes operating costs. All units are UL 2200 Listed, CSA Certified, & Seismic Certified to IBC 2012.
Standard Features for all Diesel Generators for Sale
Control Panel:
Perfectly focused combining rugged construction and microprocessor technology. Provides genset control, transfer switch control, metering, protection and programmable logic, all through NON-PROPRIETARY SOFTWARE.
Air Cleaner
Light weight and self supporting single stage air cleaners are non-metallic, dry type, vibration resistant, and can be mounted vertically or horizontally
Critical Grade Silencer
Mounted up to 600 kW, the CPJ series incorporates a unique combination of resonator chambers, acoustically packed internal components and diffusers to achieve a stunning level of performance for both noise and shell temperature.
Circuit Breaker
Mounted and wired in a NEMA 1 enclosure, the molded case circuit breaker provides the power system and corresponding equipment from damaging fault currents.
Battery Charger
Built to stand up to extreme conditions, watertight, shock proof, and corrosion proof.
Battery, Rack and Cables
Exide pioneered climatized battery design for long life and high performance starting power under the most severe conditions.
Jacket Water Heater
Mounted with isolation valves, our thermostatically controlled jacket water heater provides constant circulation of coolant through engine achieving even heat distribution.
Oil Drain Extension
Plumbed to base with valve to provide easy service and maintenance access point in the field.
Compression Mounts
Dome style mounts isolate vibration from unit to the base.
TRANSFER SWITCHES
Emerson Network Power's ASCO Transfer Switches offer the best in class technology available. From light commercial to the critical power needs of healthcare, financial and data centers, ASCO has a switch to cover your needs. Available in a multitude of configurations to meet your design specifications.