Cummins KTA19 Series Diesel Generator Sets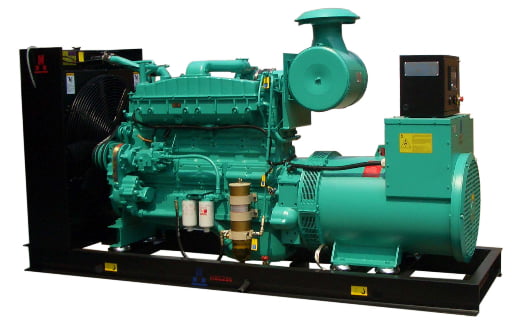 Overview
The Cummins NPower GC-series commercial Generator Set (GenSet) is a fully integrated power generation system providing optimum performance, reliability, and versatility for stationary continuous power applications. A primary feature of the GC-series GenSet is strong motor-starting capability and fast recovery from transient load changes. The torque-matched system includes a heavy-duty Cummins 4-cycle spark-ignited engine, an AC alternator with high motor-starting kVA capacity, and an electronic voltage regulator with three-phase sensing for precise regulation under steady-state or transient loads. The GC-series GenSet accepts 100% of the nameplate rating. The standard PowerCommand® digital electronic control is an integrated system that combines engine and alternator controls for high reliability and optimum GenSet performance. Optional GenSet housing and component heaters shield the GenSet from extreme operating conditions.* Environmental concerns are addressed by low exhaust emission engines, sound-attenuated housings, and exhaust silencers. A wide range of options, accessories, and services are available to allow configuration to your specific power generation needs. Every production unit is factory tested at rated load and power factor. This testing includes demonstration of rated power and single-step rated load pickup. Cummins NPower manufacturing facilities exemplify quality standards, emphasizing our commitment to high quality in the design, manufacture, and support of our products. GenSets are designed, manufactured, and tested to relevant codes and standards listed below.
Cummins Heavy-Duty Engine – Rugged 4-cycle industrial spark-ignited engine delivers reliable power, low emissions, and quick response to load changes.
Alternator – Several alternator sizes offer selectable motor-starting capability with low reactance 2/3 pitch windings, low waveform distortion with non-linear loads, fault-clearing short-circuit capability, and class H insulation. The alternator electrical insulation system is UL1446 Listed. The alternator is certified to CSA 22.2 and UL 1004 Listed.
Control Systems – The PowerCommand® electronic control is standard equipment and provides total GenSet system integration, including automatic remote starting/stopping, precise voltage regulation, alarm and status message display, output metering, and auto-shutdown at fault detection. The PowerCommand® control is UL508 Listed, as well as NFPA 110 compliant in standalone applications. The controls are certified to CSA C282-M1999 and CSA 22.2 No.14 M91.
Warranty and Service – All Cummins NPower GenSets are backed by a comprehensive one-year warranty program and supported by a worldwide network of over 200 locations to assist with warranty, service, parts, and planned maintenance support. * Cold weather heaters are recommended when ambient temperatures are below 0 °C (32 °F).
With this you can also explore different Cummins Generator before you buy any other generator set.
Specifications
Unit Width 1778 mm (70 in) Open set Unit Height 2083 mm (82 in) Open set Unit Length 3734 mm (147 in) Open set Unit Wet Weight * 3970 to 4257 kg (8753 to 9385 lbs) – Dependent on selected alternator. Open set Rated Speed 1800 rpm Voltage Regulation, No Load to Full Load ±1% Random Voltage Variation ±1% (Three phase only.) Frequency Regulation Isochronous Random Frequency Variation ±0.5% Radio Frequency Interference Optional PMG excitation operates in compliance with BS800 and VDE level G and N. Addition of RFI protection kit allows operation per MIL-STD-461 and VDE level K.
Base Engine Cummins Model KTA19GC Displacement 8 L (488 in3) Overspeed Limit 2100 rpm Regenerative Power TBD Cylinder Block Configuration Cast iron with replaceable wet cylinder liners Cranking Current 550 amps at ambient temperature of 0 °C (32 °F) Battery Charging Alternator 37 amps Battery Type 8D (x2) Starting Voltage 24-volt, negative ground Standard Cooling System See derates on Page 2 Lube Oil Filter Types One spin-on canister-combination full flow with bypass.
Design Brushless, 4-pole, drip-proof revolving field Stator 2/3 pitch Rotor Direct-coupled by flexible disc Insulation System Class H per NEMA MG1-1.65 or better Standard Temperature Rise * 125 °C Exciter Type Permanent Magnet Generator (PMG) Phase Rotation A (U), B (V), C (W) Alternator Cooling Direct-drive centrifugal blower AC Waveform Total Harmonic Distortion <5% total no load to full linear load <3% for any single harmonic Telephone Influence Factor (TIF) <50 per NEMA MG1-22.43 Telephone Harmonic Factor (THF) <3.
Models available in Cummins KTA19 Series:
| Generator Model | Frequency | Standby Rating (kW / kVA) | Continuous Rating (kW / kVA) | Spec Sheet |
| --- | --- | --- | --- | --- |
| GCEB | 60 | | 250 / 312 | A042E376 |
| GCEB | 60 | | 275 / 343 | A042E381 |
| GFEB | 60 | 350 / 437 | | A042E366 |