Cummins QSK23 Series Diesel Generator Sets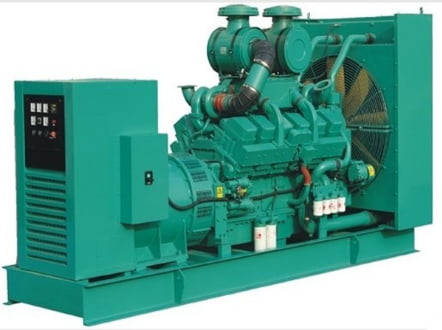 Overview
This Cummins Power Generation commercial generator set is a fully integrated power generation system, providing optimum performance, reliability, and versatility for stationary standby, prime power, and continuous duty applications.
Cummins® heavy-duty engine – Rugged 4-cycle industrial diesel delivers reliable power, low emissions and fast response to load changes.
Permanent magnet generator (PMG) – Offers enhanced motor starting and fault clearing short circuit capability.
Alternator – Several alternator sizes offer selectable motor starting capability with low reactance 2/3 pitch windings; low waveform distortion with non-linear loads, fault clearing short-circuits capability, and class H insulation.
Cooling system – Standard integral set mounted radiator system, designed and tested for rated ambient temperatures, simplifies facility design requirements for rejected heat.
Control system – Standard PowerCommand® electronic control provides total system integration including remote start/stop, precise frequency and voltage regulation, alarm and status message display, AmpSentry protection, output metering, auto-shutdown.
Warranty – Backed by a comprehensive warranty and worldwide distributor network.
Motorized circuit breaker – Optional 3 or 4 pole motorized circuit breaker available.
With this you can also explore different Cummins Generator before you buy any other generator set.
Specifications
Genset performance class ISO 8528 G2 Voltage regulation, no load to full load ± 0.5% Random voltage variation ± 0.5% Frequency regulation Isochronous Random frequency variation ± 0.25% EMS compatibility EN 61000-6-4 / EN 61000-6-2.
Design 4 cycle, in-line, turbo charged and after cooled Bore 169.9 mm (6.69 in.) Stroke 169.9 mm (6.69 in.) Displacement 23.15 liter (1413 in3 ) Cylinder block Cast iron, 6 cylinder Battery capacity 1800 amps at ambient temperature 0 ºF to 32 ºF (-18 ºC to -0 ºC) Battery charging alternator 35 amps Starting voltage 24 volt, negative ground Fuel system Direct injection Fuel filter Spin on fuel filters with water separator Air cleaner type Dry replaceable element with restriction indicator Lube oil filter type(s) Fleetguard dual venturi spin on, combination full flow and bypass Standard cooling system 104 ºF (40 ºC) ambient radiator.
Design Brushless, 4 pole, revolving field Stator 2/3 pitch Rotor Single bearing, flexible disc Insulation system Class H Standard temperature rise 125 ºC standby Exciter type PMG (permanent magnet generator) Phase rotation A (U), B (V), C (W) Alternator cooling Direct drive centrifugal blower fan AC waveform total harmonic distortion (THDV) No load <1.5%. Non distorting balanced linear load <5% Telephone influence factor (TIF) < 50% per NEMA MG1-22.43 Telephone harmonic factor (THF) <3%.
Models available in Cummins QSK23 Series:
| Generator Model | Frequency | Standby Rating (kW / kVA) | Prime (kW / kVa) | Spec Sheet |
| --- | --- | --- | --- | --- |
| DQCA | 60 | 600 / 750 | 545 / 681 | S-1551 |
| C825 D5 | 50 | 660 / 825 | 600 / 750 | SS12-CPGK |
| C900 D5 | 50 | 720 / 900 | 656 / 820 | EA_S_CC_22_EN |
| C900 D5 | 50 | 720 / 900 | 656 / 820 | EA_S_CC_22_EN |
| C750 D6 | 60 | 750 / 938 | 680 / 850 | SS12-CPGK |
| DQCB | 60 | 750 / 938 | 680 / 850 | S-1551 |
| DQCC | 60 | 800 / 1000 | 725 / 906 | S-1551 |
| C800D6RG | 60 | 800 / 1000 | 725 / 906 | S-1594 |
| C800 D6 | 60 | 800 / 1000 | 725 / 906 | SS12-CPGK |
| C1600D6RG | 60 | 1600 / 2000 | 1450 / 1812 | S-1596 |